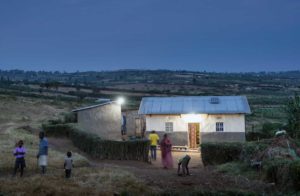 The Solar DC Home Lighting Power Pack System is the successful integration of the Solar Photovoltaic's and the emerging LED technology. It is an innovative, environment-friendly, complete home lighting solar solution that has the power to remove darkness from millions of lives. The Solar DC System is fitted with Solar Charge Controller that charges the battery with the help of solar power from the panel. The system has dual uses for Mobile charging and Lighting for Home or shop. These LED lamps give higher brightness at very low power consumption. A standard package can light up up to 6 Nos of 12 W DC LED Tube Light, 2 Nos DC Fans along with USB Mobile Charging Points.
Safe & easy to install and Operate
High Quality Power LED Driver Technology
The Solar DC System provides intelligent overload and short circuit protection to the system.
The system is automatically turned off so that it is kept unharmed and as soon as the circuit is repaired or the extra load is turned off, the system restarts to work as efficiently as ever.
Just like the overload and short circuit protection, the Solar DC System also provides protection from low battery and high battery conditions. This ensures that the system stays protected against all kinds of damages. Also, this increases the battery life considerably.
Lower energy consumption decreases: CO2 emissions.
Solar PV Panel : (100WP / 75WP /50 WP)
Lead Acid Battery : 100Ah /75Ah/40Ah
Charge Controller : 20A/10A/6A
12 W DC LED Tube Light , DC Fans, Mobile Charging Points
GI Mounting Structure and Civil work
Wire Cable etc
| | | |
| --- | --- | --- |
| Load | 100% | 50% |
| Duration | 8-10 Hrs Back up | 18-22 Hrs Back up |
Delivery of the Solutions
| | |
| --- | --- |
| Delivery | Within 10 days from the date of confirmed order with advance payment |