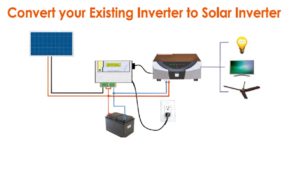 Ensure priority usage of Solar Power to reduce Grid consumption.
Maximizes solar energy harvest
Inbuilt protection to avoid battery under charge and over charge
The charging process has been optimized for long battery life and improved system performance.
When batteries are drained, SMU first tries to get the batteries charged from solar. But in absence of solar, the batteries will be charged from grid power.
The system can work as a domestic inverter and a solar inverter automatically or manually through a switch except in night condition. In night condition the system will work as normal domestic inverter.
It saves 2-4 units of electricity consumption per day
Integrated with High Efficiency PWM solar charge controller
Suitable for all types of Lead-Acid Batteries
Automatic selection of 12V or 24V
High reliability with longer operational life
LCD Display with data logging facility
Compact design with wall mounting arrangement
Suitable for home /office inverter of 0.6-1.5KVA
Nominal Voltage
12V/24V
12V/24V
Solar Charging Current
20A
40A
Solar Module
12V:240 WP
24V: 500WP
12V:500 WP
24V: 1000WP
Battery
SMU Operating Mode
12V
24V
Solar Charging On
Solar Chargin Off
<11.6V
<23.2V
Connects Grid
Grid is always connected
<13.6V
<27.2V
Solar Tickle Chg. on
>13.9V
>27.8V
Disconnects Grid
>14.2V
>28.4V
Solar Boost Chg. off