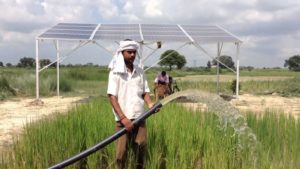 Solar Water Pumping system is a water lifting system powered by electricity generated from Solar panels. Using solar water pump is more economical where grid electricity is not available. There are two types of Solar Water Pumps, one is Submersible Solar Pump and another is Surface Solar Pump. Both pumps are available in DC and AC.
Major components of Solar Water Pumping System
Solar Panels which generate power.
A Variable Frequency Drive (VFD) which controls the System.
Motor Pump to lift the water.
Benefits
It is the best alternative in areas where there is no electricity and reliable supply is not available.
Long Operation Life.
No Fuel Cost – Uses abundantly free Solar Energy.
Eco-Friendly
Solar Water Pumps are used for a number of innovative applications
Village Water Supply
Irrigation , Horticulture firm , Micro Irrigation
Water Supply to schools and remote locations
Water Supply to Gardens
Livestock Watering